What Made Nelson Mandela Great
Wednesday, May 23, 2018 - 17:27
Ahead of Nelson Mandela: The Centenary Exhibition, which takes place at Southbank Centre this summer, journalist John Battersby, who spent a lot of time with Mandela in the early 1990s, recounts the South African leader's release from prison.
---
I never cease to be amazed how hungry people are for anecdotes from personal interactions with Nelson Rolihlahla Mandela, and how one person could have inspired so many people and changed the world so profoundly. In the past 18 months I have participated in two panels on memories of Mandela and the mind of Mandela, and I have concluded that the insatiable public appetite stems from Mandela's towering human achievements in transforming adversity into triumph and changing himself fundamentally.
What immediately struck those who came into contact with Mandela was his ability to focus his whole being on those he was interacting with. He was able immediately to connect with the humanity in every person he encountered. It was this attribute which transformed the lives of many who had the privilege of meeting him.
I was very fortunate to have been a foreign correspondent and then South African newspaper editor at the time of Mandela's release and the decade that followed through the democracy negotiations and five years as the first black President born of hardship and the pain of isolation from his family and loved ones.
While his life goals were clear, his life choices often led to paradoxes in his personal and public life. His ability to change himself during those long prison years in line with the insights he had had during his years as activist and freedom fighter, is what enabled him not only to achieve his core objective of liberating South Africa but also inspiring humanity as a whole to achieve its dreams.
Mandela was always mindful that his leadership role in the liberation of South Africa from apartheid might not have been possible if he had not been imprisoned. 'It is possible that if I had not gone to jail and been able to read and listen to the stories of many people... I might not have learned these things,' Mandela said of the insights that he gained during his 27 years in jail.
If you have an objective in life, then you want to concentrate on that and not engage in infighting with your enemies. You want to create an atmosphere where you can move everybody toward the goal you have set for yourself.
In an interview less than a year after he had stepped down as the country's first black president, Mandela shared with me reflections of how prison had changed him. He said that reading the biographies of great leaders who had been able to overcome their shortcomings and rise to do great things had inspired him. Those biographies included Mahatma Gandhi, Martin Luther King and Winston Churchill.
He said reading about them also helped him to realize that behind every seemingly ordinary person lay the potential of greatness. Mandela said that prison gave him time to think about the times when he had failed to acknowledge people who had been kind to him.
He said that at the height of the anti-apartheid struggle, he and other leaders were understandably angry at the humiliation and loss of dignity of those who suffered under the unjust policy. As a result their actions were driven by anger and emotion rather than by reflection and consultation. 'But in jail - especially for those who stayed in single cells - you had enough opportunity to sit down and think,' he said.
Mandela said that he had learned that when you had the moral high ground, it was better to sit down and talk to people and persuade them of the correctness of your cause rather than trying to impose your ideas.
'If you have an objective in life, then you want to concentrate on that and not engage in infighting with your enemies,' he said. 'You want to create an atmosphere where you can move everybody toward the goal you have set for yourself'.
In his twilight, Mandela was at pains to publish and acknowledge his weaknesses and shortcomings in his family life, in his relationships with women and his first wife, Evelyn. He was keen to dispel any notion of sainthood that might be bestowed on him. He also spoke increasingly about the importance of changing oneself.
'One of the most difficult things is not to change society - but to change yourself,' Mandela said in 1999 at a tribute to billionaire businessman Douw Steyn who had made his Johannesburg residence available to Mandela as a retreat after his prison release in 1990.
Mandela gave similar advice to his wife Winnie in a letter written to her in 1981 after she had been jailed by the apartheid regime. Mandela noted that there were qualities 'in each one of us' that form the basis of our spiritual life and that we can change ourselves by observing our reactions to the unfolding of life.
The reflections took me back to the extraordinary day of Mandela's release. The day the legend became a man. Even now, 28 years later, the moment seems frozen in time.
It was 11 February 1990, and the African sun shone from a clear blue sky on a windless summer's day on the winelands near Cape Town. The international media thronged around the entrance of a neat prison warder's house to await the emergence of one of the century's most iconic figures.
I had arrived late at the prison and wandered unnoticed into the prison grounds where my slate-blue cotton suit coincidentally blended in with the uniform colour of the South African police. That might have had something to do with the fact that I was not challenged when I strode confidently into the prison grounds. But to this day I do not know.
An unscheduled wait of an hour while Mandela consulted an anti-apartheid delegation including his wife Winnie, who had arrived an hour late, seemed like an eternity. When Mandela, flanked by Winnie, finally emerged walking down the driveway towards the prison gates, I lost all sense of time and self and strode towards Mandela to shake his hand and congratulate him on his freedom.
One of the most difficult things is not to change society - but to change yourself.
He recognized me from the photograph that accompanied my regular column I had written for the Cape Times, where I often analysed the successes and setbacks of the anti-apartheid movement and the African National Congress in exile. His face broke into a broad smile as we shook hands and he continued his historic walk to freedom.
At the time, I was the southern Africa correspondent for the Christian Science Monitor which was for many years the only international news publication that Mandela was allowed to read in jail albeit in a vetted form with pages and sections frequently removed.
One of Mandela's strongest attributes as a politician was that he understood the power of the image – and therefore the media – as few public figures have ever done.
As Verne Harris, director of the Centre for Memory at the Nelson Mandela Foundation, has observed: Mandela felt 'an enormous burden of responsibility' when the ANC decided in the early 1980s to project him as a symbol of the liberation movement and the struggle against apartheid. Harris said that from that point onwards everything that Mandela did in his private life impacted on his public representation.
He said Mandela was actually aware that he had contributed to creating the iconic image of himself and felt uncomfortable about having done so. 'He was also aware that you pay a price: the human being that you are starts to lose connection with the public representation.'
Mandela had moments of reflection when he had difficulty distinguishing between the two. 'Who is this Nelson Mandela?' he once asked rhetorically after gazing silently out of the window  during a 90-minute flight from Johannesburg to Durban in a six-seater jet in which I was the only other passenger.
The power of Mandela's leadership was rooted in the fact that at key moments in his life he acted independently of the movement to which he dedicated his life and to which he deferred as a 'loyal and obedient' member. He did so when he decided, in 1986, to begin negotiating with his jailers from behind bars not knowing where it would end. He did so in continuing to refer to former President F. W. de Klerk as a 'man of integrity' long after it unpopular to do so in the ranks of the African National Congress.
And he did so again when he went out on a limb within his own constituency after his release to support the overwhelmingly white South African team in the 1995 Rugby Union World Cup.
Mandela said that even if he wanted to he could not bind future generations to remember history in a particular way. And so it was not up to him to say what he wanted his legacy to be. The lesson of Mandela's life is that he had no need to bind anyone to his legacy nor did he need any organization to do so.
His actions in his own lifetime are his legacy and they will remain indelibly etched in history for generations to come as a living example to inspire the leaders of tomorrow.
by John Battersby
---
Parts of this blog were originally published by John Battersby in the Christian Science Monitor and on the CNN website following Mandela's death on 5 December 2013.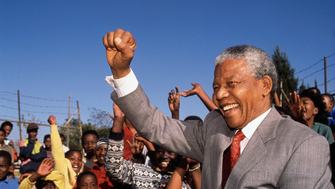 To mark the centenary of the birth of Nelson Mandela, Southbank Centre is hosting an exhibition about the iconic leader's life, career, and commitment to equality and justice. Free to attend, the exhibition takes place in our Queen Elizabeth Hall Foyer from Monday 16 July to Sunday 19 August.