How has WOW inspired you to make a change?
Has Women of the World inspired you to make a change? We want to hear your story!
WOW has been a catalyst for so much change, from the founding of the UK's Women's Equality Party to countless campaigns including UK Supports Yazidi Women and Girls, and Little Acts of Revolution.
There are stories of new businesses, plays and ideas being born at WOW that have changed the lives of women and girls across five continents, not to mention even more personal eureka moments and turning points in people's lives.
Share your story with us
We would love to hear how WOW has inspired you to make change, big or small. Can you tell us your story of change, so that we can tell ours?
Send your story to us today, via email on the link below.
Please note that submitted stories, and extracts from them, may be used by Southbank Centre, or WOW, to help support and, or promote future WOW events. By submitting your story you are giving permission for it to be used in this way.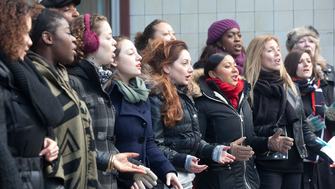 Read Jessica's story
Not sure what we're looking for? Take a read of Jessica's story of how involvement in WOW inspired her to set up the charity Girls Rock London.