Who are the shortlisted writers for this year's Man Booker Prize?
Wednesday, September 13, 2017 - 10:30
One of our most high-profile annual literature events is the Man Booker Prize Shortlist Readings, and we're excited to reveal the line-up of authors appearing at this year's event, which will be held on Monday 16 October.
They are:
Paul Auster (US) 4321
Emily Fridlund (US) History of Wolves
Mohsin Hamid (UK-Pakistan) Exit West 
Fiona Mozley (UK) Elmet
George Saunders (US) Lincoln in the Bardo
Ali Smith (UK) Autumn
At our Booker Prize event, all the shortlisted authors read extracts from and discuss their nominated novels, one day before the winner is revealed. Read on to find out more about the books and their authors.
4321 by Paul Auster
Paul Auster is internationally one of the most acclaimed novelists of our time, but this is his first appearance on the Man Booker shortlist since American authors became eligible for entry in 2014.
4321 is an inventive novel that follows the life of Archibald Isaac Ferguson, four times – each life lived simultaneously, but entirely differently. It explores the boy's four different inner lives and the impact of the forces of history in mid 20th-century America on them, as he grows up again and again.
Auster's other books include Winter Journal, Sunset Park, Man in the Dark, The Brooklyn Follies, The Book of Illusions, The New York Trilogy. He lives in Brooklyn, New York and is married to another famous American novelist, Siri Hustvedt.
Auster's narrative is never anything less than stylistically assured, his humour and humanity perfectly balanced
History of Wolves by Emily Fridlund
This debut novel tells the story of 14-year-old Linda, who is growing up by a lake in backwoods Minnesota with her parents, the last remaining members of a religious cult. Isolated and mocked by her peers, Linda gravitates towards a new family who have moved into a cabin over the lake. But as soon as she starts to fit in, Linda begins to realise there are secrets she doesn't understand in this book that is part thriller and part coming-of-age novel.
The author, Emily Fridlund, grew up in Minnesota and published a collection of short stories, Catapult, before writing this book.
Fridlund does a remarkable job transcending genres without sacrificing the suspense that builds steadily in the book
Exit West by Mohsin Hamid
Mohsin Hamid was previously nominated for the Man Booker Prize in 2007, for The Reluctant Fundamentalist. Now he's back with Exit West, a timely novel about civil war, the refugee crisis and about love, loyalty and courage. Its central characters are Nadia and Saeed, who embark on a furtive affair as unrest arrives in their city. The lovers eventually decide they must leave their homeland and their old lives behind.
Hamid was born in Lahore and now lives there, after residing for a number of years in New York and London. He is also the author of How to Get Filthy Rich in Rising Asia and Discontent and Its Civilizations.
The novel feels immediately canonical, so firm and unerring is Hamid's understanding of our time and its most pressing questions
NewYorker.com on Exit West
"
Elmet by Fiona Mozley
Fiona Mozley is the other debut novelist on the list and the youngest of those shortlisted, aged 29. Her book Elmet is set in rural Yorkshire and looks at familial bonds and contemporary life, at the same time as being a beautiful meditation on landscape.
Mozley was born in London and grew up in York. She studied at Cambridge before moving back to York to complete a PhD in Medieval Studies. She still lives in York, where she has a weekend job at The Little Apple Bookshop.
Elmet possesses a rich and unfussy lyricism . . . [It] makes for a scarred, black gem
Lincoln in the Bardo by George Saunders
George Saunders is one of those writers beloved by other writers but whose fame doesn't reflect his talent. Perhaps that's because until Lincoln in the Bardo he has only published short story collections and novellas.
Lincoln in the Bardo changed all that, becoming a New York Times bestseller on its release in March this year. It takes place over the course of an evening, telling of the grief of Abraham Lincoln following the death of his 11-year-old son Willie. The 'bardo' of the title refers to a Tibetan buddhist concept of a space between life and death, and the novel has supernatural elements. If this all sounds terribly heavy, then be assured – Saunders is one of the funniest writers working today, and there are moments of hilarity.
Stunning . . . Lincoln in the Bardo is a triumph . . . In Lincoln in the Bardo Saunders has reinvented the form
Autumn by Ali Smith
This is the fourth time that Ali Smith, born in Inverness in 1962, has seen one of her novels shortlisted for the Man Booker Prize. Although she is yet to win, she has plenty of other accolades including the Baileys Prize, the Goldsmiths Prize and the Costa Novel Award, all for How To Be Both.
Her latest novel, Autumn, is one of a series of four planned novels, each named after one of the seasons. It could be called the first Brexit novel of note, having been penned by Smith after the result of the 2016 referendum that saw Britain decide to leave the EU (although she had been planning it for much longer).
It tells the story of Elisabeth Demand, born in 1984, and the close friendship that she develops with Daniel Gluck, the elderly resident of a care home. It touches on themes like the power of art, the nature of friendship and the briefness of life, at the same time examining the state of our divided nation.
Undoubtedly Smith at her best. Puckish, yet elegant; angry, but comforting
The 2017 panel of judges comprises the literary critic, Lila Azam Zanganeh; the Man Booker Prize-shortlisted novelist, Sarah Hall; the artist Tom Phillips; and the travel writer and novelist, Colin Thubron CBE. It is chaired by Lola, Baroness Young.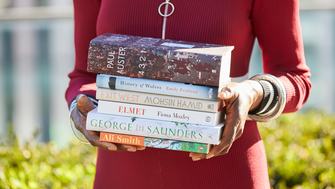 The Man Booker Prize Readings takes place on Monday 16 October and is BSL interpreted and speech-to-text transcribed.