Steve Kielty, MasterChef finalist, gets cooking on the South Bank
Wednesday, July 4, 2018 - 14:05
We normally have to pray for barbecue weather, but this summer we've had nothing but the blue skies and bright sunshine you associate with the whiff of charcoal that accompanies the slow sizzling of meat... and sunburn.
So a brilliant summer, deserves a particularly brilliant barbecue and that's exactly what we've got for you; combining stunning riverside views of London, with the incredibly tasty wares of a top chef born and bred here in the city. For two weeks, Steve Kielty, 2017 MasterChef finalist, will be cooking up a delicious feast on the top floor of our Royal Festival Hall as part of The Jam Shed Supper Club. Here he tells us what you can expect from his menu and how he manages to blur his passions for food and music.
Most people will recognise you from reaching the final of 2017's MasterChef, but what have you been up to since you were on our television screens?
Well, as you can imagine, the last year has been a proper whirlwind. I started my pop-up in June last year and that has been going monthly since then. I love constantly having to come up with new dishes every month, and also being able to cook local to me in Woolwich. Alongside that I've been appearing at a number of food demonstration events around London - The Ideal Home Show was a great one I did at the end of last year.
How would you describe your style of food?
I suppose the food I make is just modern British food. I love classic flavours, but like to play around with modern techniques to give them a new lease of life.
How does it feel to be running a supper club here with us this summer?
It's great ! Growing up and living in London, Southbank Centre is a place I've been to loads! I've spent many a Sunday on the pop-up beach, or wandering round the street food stalls, so to get the opportunity to cook there myself is amazing.
Will you be offering something a bit different from your usual menu for the occasion?
When I got the opportunity to cook at Southbank Centre, I wanted take the restaurant style dishes I do at my regular pop-ups and do something a little more relaxed, perfect for sharing. The menu I'll be cooking will be my take on a summer BBQ with some lovely salads, whilst the star of the show is a BBQ glazed slow-cooked beef brisket. There's also great BBQ style hot sauce and loads other dishes that are great for summer sharing.
Sounds delicious. What are you most excited about on this menu?
It has to be the brisket and the hot sauce! I've had the really hard job of testing the recipe over the last few weeks and I can tell you it is bloody good, my missus and neighbours can't get enough of it! 
You mentioned that you've been to the Southbank Centre 'loads'. Do any events stand out for you?
The last thing I saw at Southbank Centre was Goldie and the Heritage Orchestra performing Goldie's first LP Timeless. It was an amazing experience - I'm not sure if the venue has had a event quite like that before. 
Oh we have. We know music is as big a part of your life as cooking, what music do you like to cook to?
When I'm catering for events I love listening to classic LP's from when I was growing up. I've made Drum and Bass music for the last 25 years, but the music I tend to listen to when i'm cooking is a little slower and quite chilled. Although that said, there's nothing like a bit of Drum & Bass to make the prep go a bit faster!
At the moment, I'd say these are my top five LPs that I listen to whilst cooking - in no particular order. Wu-Tang Clan's Enter the Wu-Tang (36 Chambers), Dummy by Portishead, Massive Attack's Blue Lines, Kites by Submotion Orchestra and Run the Jewels' RTJ3.
What dishes do you reckon go best with those albums?
Haha, I dont think I've ever thought about it that much. You'll have to come to my Supper Club and decide for yourselves.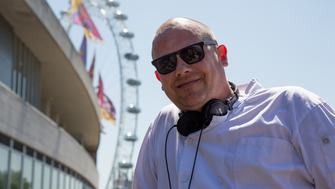 Steve Kielty will be cooking his summer barbecue inspired menu at Southbank Centre as part of The Jam Shed Supper Club. Steve joins us from 24 July to 4 August.