Mogwai at Robert Smith's Meltdown
'The Cure were one of the first bands I got into as a teenager so I actually know how to play more of their songs than of any other people's songs,' said Barry Burns of Mogwai, speaking to Southbank Centre before the band's performance as part of Robert Smith's Meltdown. The Glasgow four-piece were making their first appearance on our stage in four years, and picked up right where they left off with a stunning performance.
In this short video featuring footage from their sell-out performance at Southbank Centre, Burns and fellow guitarist Stuart Braithwaite tell us about how it feels to take to the stage in our huge 2,500 capacity Royal Festival Hall, and what it means to them to be part of Robert Smith's Meltdown.
Royal Festival Hall's famous acoustics perfectly marry with Mogwai's instrumentation, so that every layer is intricately showcased
Laura Foulger, The Upcoming, reviewing Mogwai's Meltdown performance
"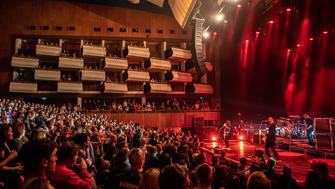 Meltdown festival is just one aspect of our live contemporary music programme here at Southbank Centre. We have gigs, performances and late night DJ sets throughout the year.