Rachel Long, appearing at the Young Producers Showcase
Rachel is a poet and teacher whose work has been published in anthologies and magazines including Magma, The London Magazine and The Honest Ulsterman. In 2015 she was awarded a Jerwood/Arvon mentorship. At Southbank Centre she has run two sell-out series of workshops for women of colour, under the title Telling her Story, and she is the founder of Octavia, a poetry collective for women of colour hosted here. She has also appeared at Oxford University, the Serpentine Galleries and on the BBC World Service.
Rachel led workshops for young poets and the results of their time together can be heard at the Young Producers Showcase, as part of the Young Adult Literature Weekender.
Alwyn Hamilton, appearing at World on the Brink
Alwyn's second novel, Traitor to the Throne, came out in February this year. It follows Amani, a young woman and rebel fighter from the desert who is betrayed and brutally kidnapped. She must then survive life in a sultan's palace that is rife with intrigue and danger.
This is part two of Alwyn's trilogy, and it takes place a year after the end of the first instalment, Rebel of the Sands.
Alwyn was born in Toronto and from the age of three grew up with her family in the small French town of Beaune. She studied History of Art at King's College, Cambridge and lives in London. Alwyn appears at World on the Brink, discussing the parallels between revolutions in fiction and in reality, along with Samantha Shannon and Sif Sigmarsdóttir.
Mary Bello, appearing at A Change is Gonna Come
A Change is Gonna Come is a new anthology of young adult writing, featuring contributions by established and up-and-coming Black and minority ethnic writers in the UK.
One of those up-and-comers is Mary Bello. Her story is called 'Dear Asha', about a young woman who has just lost her mother and who sets out on a journey to find out who her family really is.
Mary is a published journalist and writer of poetry, prose poetry as well as short stories. She appears with Aisha Bushby, Yasmin Rahman and Phoebe Roy at a Young Adult Literature Weekender event celebrating A Change Is Gonna Come's publication, where the authors read from their work and discuss their future hopes.
Lydia Ruffles, appearing at What is Truth?
Lydia's first novel, The Taste of Blue Light, was published last month. It tells the story of a young woman called Lux, who wakes up in hospital with no idea how she got there. What follows is a soul-searching story about mental illness, trauma, love and art, as Lux desperately tries to uncover the truth about what happened that summer and piece together her fractured mind.
Lydia spent 10 years working in the corporate world and travelling, before signing up to the Faber Academy to focus on writing. She appears at Southbank Centre's Young Adult Literature Weekender in the session What is Truth, along with Irfan Masters and Patrice Lawrence.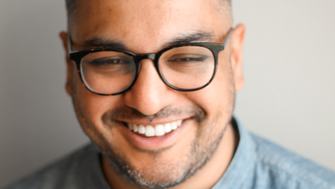 The Young Adult Literature Weekender takes place on Saturday 28 & Sunday 29 October and entry is by day or weekend pass.
#YALW #LondonLitFest