Let The Light In: How Hayward Gallery is getting ready for 2018
Monday, March 20, 2017 - 17:29
Since 1968, Hayward Gallery has been one of the world's leading contemporary art galleries and a landmark of Brutalist architecture. It's 'a place for adventure, for risk taking, for breaking new ground', explains Hayward Gallery Director, Ralph Rugoff, in our latest Let The Light In film.
50 years of influential exhibitions
After almost 50 years of influential exhibitions, including acclaimed shows by Anish Kapoor, Tracey Emin, Jeremy Deller and Bridget Riley, Hayward Gallery closed for two years in September 2015 to undergo essential refurbishment and repairs.
In our latest film, artists Bridget Riley and Antony Gormley, who have exhibited and curated shows at Hayward Gallery, explain what the gallery means to them, and how the improvements will transform the experience for visitors and artists alike when it reopens in early 2018.
Watch the film below to see how Hayward Gallery is taking shape to be ready to welcome audiences and artists for the next 50 years.
We want to make sure young artists and audiences in the future have the same chance to be thrilled by the magic of this building and what happens in it.
Ralph Rugoff, Hayward Gallery Director
"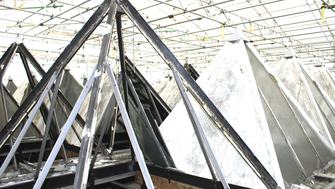 In the final year of our fundraising campaign, we need your support more than ever to help us finish restoring Hayward Gallery for future generations. Please support our Let The Light In campaign.