Inspirational This Girls Got Ideas jewellery from Tatty Devine
Monday, March 26, 2018 - 14:07
An annual focal point in the campaign for women's rights, International Women's Day carried additional significance in the UK this year, as it also marked the centenary of some women being granted the right to vote.
To mark the milestone, and in celebration of International Women's Day, handmade jewellery company Tatty Devine teamed up with Poppy's Papercuts to create an exclusive collection of female focused designs. The resulting This Girls Got Ideas range was launched in our Royal Festival Hall shop in March as part of a month-long takeover that took in our WOW - Women of the World festival.
The collection celebrates six inspiring and talented contemporary women, whose individual stories have been transformed into a series of playful, yet empowering jewellery. Here we give you a further insight into the amazing women that have created these pieces.
Rosy Nicholas
Artist, author and craft-based maker Rosy Nicholas works across a range of fields including illustration, props and accessories. Nicholas chose to celebrate the love of her craft, encouraging others to find 'their thing' in life and play to their strengths. Her Girls Got Ideas Scissors Necklace gives the collection its very apt name.
Marawa Ibrahim
High-heeled roller-skater and 12-time world record holder, Marawa Ibrahim is a hula-hoop expert, performing her talents all over the world. Her jewellery features her famous high heeled roller skates (she has four pairs) with the words brave and beautiful along the legs. Marawa wanted to show that although those two words don't always go together they are not mutually exclusive and you can be as brave and beautiful as you want.
Lakwena McIver
Artist Lakwena McIver's kaleidoscopic work, borrows from the techniques and conventions of traditional sign-writing and contemporary graphic design to create epic outdoor murals. Her pieces focus on the exploration of how colour and content has the power to lift the spirit – something that is very much reflected in her joyful work and now her jewellery.
Gemma Shiel
Illustrator and designer Gemma Shiel, is the creative mastermind behind independent British street wear label Lazy Oaf, known for her irreverent and playful designs. Gemma's pieces are inspired by her respect for singer Madonna's ability to 'do her own thing', taking the form of an embellished jacket. The Do What I Want Mouth Necklace is in response to the person who told her that she wouldn't make it when she started her own business – making her want to do her own thing even more.
Bwalya Newton
Bwalya Newton is a freelance writer and the founder of the Hackney Gazelles, an all-female creative collective basketball team, made up of talented female producers, photographers, stylists and writers. Inspired by a talk by political activist, Angela Davis, Bwalya's pieces are emblazoned with phrases of positive reinforcement, reflecting Davis' advocation that if everyone does their bit we can change the world together. 
Rhyannon Styles
Transgender advocate and Elle UK columnist, Rhyannon Styles wrote her debut memoir The New Girl, providing a heart wrenching and insightful look into the journey of transition. Her two pieces are inspired by this journey, with the Be Who You Want Ballet Necklace acting as a symbol of hope from her childhood - looking at her ballerina jewellery box as a young boy and knowing that she wanted to be something else. Her earrings reflect her thoughts on motherhood - that when the time comes for children she has a lot of love to give.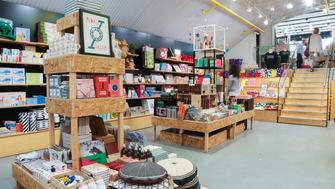 Each of these items, along with a whole host of similarly creative and inspiring jewellery, can be found in the Southbank Centre shop, which you'll find adjacent to Royal Festival Hall, or online.