Whether you're an adventurous gourmand, a health-conscious connoisseur or just really love hot dogs, we urge you to make your way to Öskubox, the latest in our special Nordic Larder guest traders.
Öskubox is the creation of Oddny Cara Edwards Hildardottir, a Reykjavik native resident in Lymington, where she founded her Nordic cafe. It has been a huge hit on the south coast and now she brings some of her favourite dishes to Southbank Centre.
Öskubox started from a love of food and missing Iceland. It remains very true to my Nordic roots
Oddny Edwards, Öskubox founder
"
What's on the menu? It includes fiskibollur, pylsa and smjörbrauð. In case your Icelandic's a bit rusty, let us explain.
Fiskibollur means fishballs, a dish so common in Iceland and Finland that Oddny says they're a staple part of the diet. She serves them either on a skewer or in a Finnish rye bread roll, along with slaw and her secret Ö-box sauce (if you don't fancy fish, try the authentic Swedish meatballs or vegetarian option instead).
Forget about puffin meat and roasted sheep's skulls – hot dogs, or pylsa as they're known in Iceland, are what modern-day Vikings really love to chow down on (you can find a hot dog stand in almost any town or village in Iceland). Oddny prides herself on bringing the best quality Nordic pylsa to the UK so you can find out why Icelanders are obsessed for yourself.
And smjörbrauð? OK, that's a bit of a cheat as they're more commonly known as open sandwiches in English, and are associated with Denmark as much as Iceland. But they're a delicious and healthy meal, and Oddny has four options to choose from, including one with homemade pickled herring and a vegetarian version.
'Öskubox started from a love of food and missing Iceland,' Oddny says. 'It remains very true to my Nordic roots. We don't quite dress up like Vikings every day but we do definitely have a modernised Viking battle with swords and helmets regularly. At least in our imaginations we do!'
recipe: Öskubox's Fiskibollur
Everything Oskubox do is about having fun with your food and not being too bound to a recipe, and this is no different. For the fishballs you can easily use whatever fish you want, sometimes Oddny will mix white fish with salmon, salt fish or trout. Or you could switch out the breadcrumbs for flour, and add different herbs to taste.
400-500g coley and cod (depending how generous you feel) 
3 tbsps breadcrumbs (approx)
1-2 eggs 
cream 
2 tsp salt 
pinch white pepper 
dill to taste 
chives to taste 
Defrost the fish and mix all the ingredients in a blender until coarse in texture. 
Form into balls and fry in a pan with butter.
And you're done!
Serve with mash and jam or slightly steamed vegetables with remuladi.
At Öskubox, the fiskibollur are often served with a brown meatball sauce. This simple sauce can be made using leftover gravy from a Sunday roast, just add a touch of sour cream, 1-2 tsp of conflour and 1-2 tsp of redcurrant jelly for a great brown sauce to accompany your fiskibollur.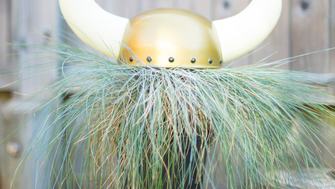 Find Öskubox in the Nordic Larder spot at SCFood Market on the following dates in August: Friday 4 – Sunday 6, Friday 11 – Sunday 13 and Friday 18 – Monday 28.