Golden Man Booker: behind the shortlist
Thursday, June 21, 2018 - 10:25
For five decades, the Man Booker Prize has brought recognition, reward and readership to outstanding fiction – celebrating the best original novels written in the English language, published in the UK. Awarded annually, the prize's honours board is a veritable who's who of literary talent from P.H. Newby in 1969 to last year's winner George Saunders, via Salman Rushdie, Ben Okri, Margaret Atwood, Roddy Doyle and many more household names and bookshelf staples.
This summer, to celebrate 50 years of the Man Booker Prize, Southbank Centre hosts a special Man Booker 50 festival featuring an array of literary talent. Offering a fitting climax to a packed weekend of events will be the star-studded Golden Man Booker Live, at which the best work of fiction from those five decades of the Man Booker Prize will be crowned.
Tasked with whittling those 50 past winners into a more manageable five-book shortlist were five judges, each responsible for a particular decade; editor and writer Robert McCrum (1970s), poet Lemn Sissay MBE (1980s), novelist Kamila Shamsie (1990s), broadcaster and novelist Simon Mayo (2000s) and poet Hollie McNish (2010s). Here, we run through their choices and hear from the judges on what drew them to make their particular selection.
1970s
In a Free State, VS Naipaul
Trinidadian writer VS Naipaul won the Man Booker Prize in 1971 with In a Free State, which comprises three short stories with an overarching plot. In Naipaul's work, we are taken across continents and given insights into very different lives, from an Indian servant in Washington DC to West Indian brothers in England as we consider the price of freedom. VS Naipaul was awarded the Nobel Prize for Literature in 2001; In a Free State is his eighth novel.
It's like a masterclass in contemporary fiction by somebody who was at the top of his game
Robert McCrum on VS Naipaul's In a Free State
"
Robert McCrum is a writer and editor, who was associate editor of The Observer from 2010 until the start of this year, having previously spent 14 years as the newspaper's literary editor. He has written seven novels and four non-fiction works including My Year Off documenting a serious stroke he suffered in 1995. In this short video, McCrum explains how re-reading VS Naipaul's In a Free State was like meeting his old self.
1980s
Moon Tiger, Penelope Lively
An academic decides to write a history of the world from her deathbed Moon Tiger, winner of the 1987 Booker Prize. What emerges, however, is a tale of incest, of love and the desire for independence. Written from multiple points of view, Penelope Lively's novel spans time before, during and after the Second World War. Lively initially made her name as a children's author — winning the Whitbread Children's Book Award in 1976 for A Stitch in Time — before writing adult fiction, where she again earned recognition, making the Booker Prize shortlist with her debut work The Road to Lichfield in 1977. Lively was shortlisted again in 1984 for According to Mark, before winning the award with Moon Tiger.
The writing is sublime, the detail is exquisite and the storytelling is masterful
Lemn Sissay on Moon Tiger by Penelope Lively
"
Lemn Sissay MBE is a poet, broadcaster, commissioner and playwright whose Landmark Poems are installed throughout Manchester and London, including in our own Royal Festival Hall. Currently Chancellor of the University of Manchester and Canterbury's Poet Laureate, he explains why he feels people should go back to Penelope Lively's Moon Tiger.
1990s
The English Patient, Michael Ondaatje
Michael Ondaatje's The English Patient shared the Booker Prize with Barry Unsworth's Sacred Hunger in 1992. It is a tale of four people brought together in a ramshackle Italian villa during the Second World War - an unrecognisably burned man, the eponymous patient, presumed to be English; his Canadian Army nurse, a Sikh British Army sapper, and a Canadian thief - and the effects the patient's gradually returning memory has upon them. As a poet, novelist and editor and critic Ondaatje has been a central figure in Canadian literature since the the 1970s. The English Patient is his third novel and was later adapted by Anthony Minghella into a highly successful film, winning an Academy Award for Best Picture in 1996.
There are few books that remain in the world that I look at and think of as a miracle, and this is one of them
Kamila Shamsie on The English Patient by Michael Ondaatje
"
Kamila Shamsie is the author of seven novels, including Home Fire (longlisted for the 2018 Man Booker Prize), Burnt Shadows (shortlisted for the Orange Prize for Fiction), and A God in Every Stone (shortlisted for the Bailey's Women's Prize for Fiction). In this short video Shamsie explains why she feels The English Patient stands out.
2000s
Wolf Hall, Hilary Mantel
Winner of the 2009 Man Booker Prize, Hilary Mantel's Wolf Hall is a sympathetic fictionalised biography, documenting the rapid rise to power of Thomas Cromwell in the court of Henry VIII through to the death of Sir Thomas More. The work is the first of a trilogy, and was followed by Bring Up the Bodies, which also won the Booker Prize in 2012, making Mantel the first female writer to win the award twice. Wolf Hall has since been adapted into both a successful stage production and a BBC television series.
It manages to be fantastically readable and yet unbelievably complicated
Simon Mayo on Wolf Hall by Hilary Mantel
"
One of Britain's most well-known radio presenters, Simon Mayo has presented BBC Radio 1, and latterly BBC Radio 2, since 1981. Named Radio Broadcaster of the Year at the 2008 Broadcasting Press Guild Awards, Mayo has also published five books, including his bestselling trilogy for children, Itch. In the short video below, he explains what, for him, sets Wolf Hall apart from the decade's other winners.
2010s 
Lincoln in the Bardo, George Saunders
George Saunders' Lincoln in the Bardo - winner in 2017 - tells the story of Abraham Lincoln mourning the death of his 11-year-old son Willie and the ghosts who visit him in the crypt where the boy's body lays. Texas-born Saunders is much loved for his witty short fiction and generous advice to other writers. Lincoln in the Bardo is the only full-length novel he has published to date.
George Saunders, with this book, has invented a new literary level with novels
Holly McNish on Lincoln in the Bardo by George Saunders
"
Poet and spoken word artist Hollie McNish has published three collections of poetry, a play and the poetic memoir Nobody Told Me, which won the Ted Hughes Award in 2012. She explains why she selected this book that 'breaks boundaries' in the video, below.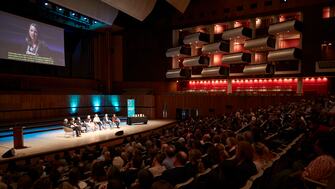 Golden Man Booker Live — Royal Festival Hall on Sunday 8 July — includes readings from the shortlisted novels, and the announcement of the winner.
Voting for the Golden Man Booker Prize is now open, and you can cast your vote for your favourite work on the shortlist on Man Booker's website