By turns funny, sad and revealing, the work offers up the full range of advice, facts, white lies and excuses children hear from adults.
more on That Night Follows Day
Like much of Forced Entertainment's work, That Night Follows Day was created through a carefully thought-out combination of writing, in this instance by Artistic Director Tim Etchells, and devising the work with young people in a series of workshops.
Formed more than 30 years ago the Sheffield-based company comprises Artistic Director Tim Etchells, along with Robin Arthur, Richard Lowdon (Designer), Claire Marshall, Cathy Naden and Terry O'Connor.
Throughout the decades, the company has maintained its commitment to push the boundaries of what theatre is, what it can do and what it can reveal about the times in which we live. And when we say 'push boundaries', we're not exaggerating! The members of Forced Entertainment have done everything on stage from speaking jibberish to staying silent, playing the clown to playing dead, and even getting drunk. They have also been the true pioneers of durational performance, delivering pieces that have run for six, 12 and even 24 hours.
Through our partnership with Forced Entertainment we hope to bring greater profile to their work in London, as well as providing an important context for exciting new projects.
Speaking of the partnership Tim Etchells said 'As a Sheffield-based company having a London home has always been important to us, and our exciting new partnership with Southbank Centre will help us show the performances we are making to new audiences in the capital, alongside working in other London contexts, as circumstances and opportunities arise. We'll also continue our diverse collaborations and presentation partnerships with organisations around the UK – as well as pursuing, in these depressing Brexit times, to develop new projects with our fantastic network of partners and presenters across Europe and further afield.'
Forced Entertainment are joined by Shobana Jeyasingh Company as a new Associate Company of Southbank Centre, sitting alongside ZooNation.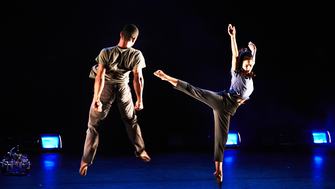 performance & dance
Southbank Centre runs a rich, varied programme of performance and dance events, including new commissions, international guests and works in progress.