Location filming & photography
Southbank Centre offers a fantastic setting for both filming and stills photography. The site can accommodate a wide variety of shoots in both our indoor and outdoor spaces. The celebrated brutalist architecture offers a distinctly gritty and urban setting for shoots.
Areas we manage include Queen's Walk, which spans the length of the River Thames, from the London Eye to Waterloo Bridge. Iconic London views can be captured from our site, west towards Westminster and east towards the City.

We also manage the areas between Queen's Walk and Belvedere Road, including Royal Festival Hall, Queen Elizabeth Hall, Purcell Room, Hayward Gallery and the surrounding walkways.

Looking for a unique indoor setting? We can also accommodate indoor shoots in our world-famous concert halls and spaces.  Please get in touch if you would like to know more.
Site map
Please refer to our site map for a full breakdown of our locations.
Making an enquiry
All filming and photography applications need to be made via FilmApp.  Before filming or photoshoots can be confirmed, the following information must be supplied:
copy of public liability insurance (generally this should be to £10m, but for small shoots £5m may be acceptable)
a comprehensive, site-specific risk assessment and method statement for the shoot
The location fee must be paid in full before the shoot date.
We may need a few days to assess your application and complete the relevant paperwork, so please submit your enquiry with as much notice as possible. We can't guarantee to manage shoots with fewer than five working days' notice.
Many films have been shot here at Southbank Centre.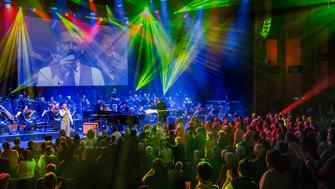 Filming performances
You can bring your own film crew to film at Southbank Centre or hire our crew to film for you.